Most Comfortable Men's Underwear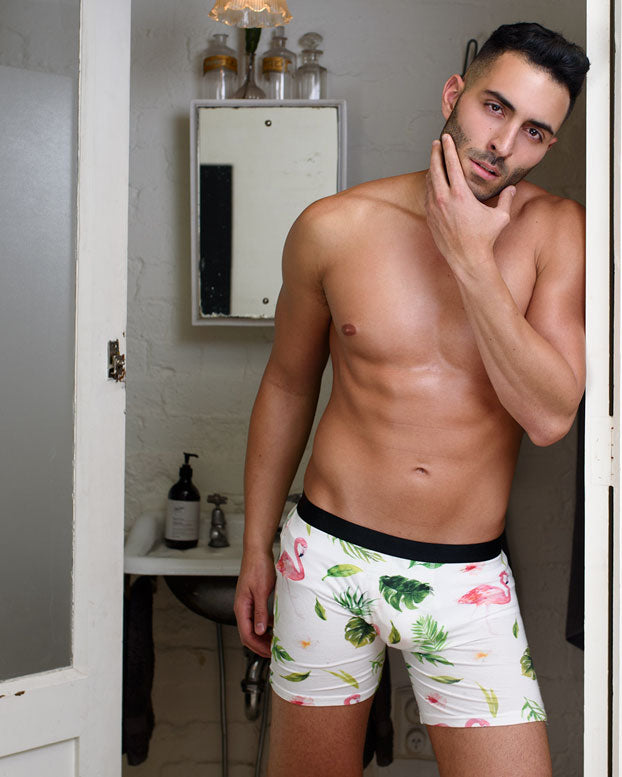 Let's preface this with why we selected these 10 brands in our list of most comfortable men's underwear. We wanted to choose underwear brands that will turn your Johnson into Juan. That's Don Juan. OR maybe it's Don Johnson. Whatever strokes your banana. One thing's for sure. You'll be the best dressed in any bedroom.
You'll see us mention Micro Modal a bunch of times. This is because Micro Modal underwear truly is the absolute best one, especially boxer briefs. It's 3X softer than cotton. More breathable and better at moisture control. It's also an eco-friendly fabric made from beech tree pulp. If you've never tried MicroModal underwear before, do the big guy and the little guy a favor and get yourself a few pairs. You both deserve it.
This is a no-holds-barred review of ten of the sexiest AND comfortable men's underwear brands.
It isn't just about the looks, baby.
Bunch of Animals Boxer Briefs
"Feels like wearing nothing at all" - We never thought it would be possible to wear underwear and feel like you're not wearing underwear 🤯.
Turns out it is possible and this is exactly what Bunch of Animals have done.
Bunch of Animals boxer briefs are made from eco-friendly European MicroModal. They are 3X softer than cotton, breathable and moisture-wicking.
They are hands down the softest pair we've ever had on.
With an exclusive selection of truly beautiful, seamless prints they are also the winner of the 10 most comfortable men's underwear brands. We just wish they had more prints to choose from.
The seams are also placed in all the right places, so there is no chafing or discomfort when wearing them all day.
They have a contoured front pouch for extra support and an ergonomic fly for easy access (you know, just in case).
Best customer review
"Like a spa day for your nuts is what they claimed to be. Like a spa day for your nuts is what they delivered."
Worst customer review
"The fabric of the underwear is very comfortable, but it squishes my junk. I have a Prince Albert piercing and it rubs up against my leg. At first, it feels good, but then irritating. I only wear pouch underwear because it has a special pocket."
Moral of the story? If your Albert has a crown, you'll need a special chamber for the crown jewel 😂
PROS
It is eco-friendly underwear.
Moisture-wicking, breathable underwear.
This underwear prevents chafing.
CONS
Limited Prints to choose from
Stonemen Underwear
Some of the most beautiful prints we've ever seen on a pair of boxer briefs. Truly.
Horses running through the steppe. Surfers hitting the tide. Deathly ocean waves. A Camaro doing a burnout 😳. You really have to see these for yourself. Prints that will drop jaws and underwear alike.
Like Bunch of Animals, Stonemen Underwear offers seamless prints. If they were made from Micro Modal, they would be our top pick.
Why Micro-Modal?
Because it's an eco-friendly, natural textile that is 3X softer than cotton and 50% more moisture absorbent.
Best customer review
" Perhaps I was neglected as a child with only plain underwear because I really like the fun designs Stonemen carries. Is it ok to have fun in your underwear? I say yes! It's odd, but it was simply fun to wear a pair of Stonemen. So, from a style rating, I give them strong kudus."
Worst customer review
"I bought underwear and a bralette earlier this year. I was so impressed with the fit and quality. But unfortunately the elastic on the bralette has already warped and stretched. It no longer supports or looks good. I'm a bit disappointed, as these were the best fitting bralette I had tried. I would buy the undies again, but not the bras."
I would buy the undies again. Where is the lie?
PROS:
The legs don't ride up.
This underwear will not let you hold sweat or odor.
The waistband is comfortable.
CONS:
The elastic on the bralette sometimes stretches
PSD Underwear
"Affordable Luxury Men's Boxer Briefs" - Offering modal and polyester boxer brief (go for the modal as they're more breathable and softer to the touch).
PSD Underwear has one of the largest collections of boxer brief prints on our list of the 10 most comfortable men's underwear brands.
This is why they are our third-place winner.
With collections ranging from Tom & Jerry to Naruto and DC Comics, you're sure to find a print that speaks to the big guy as well as the little guy.
Best customer review
"Something about that blue. My my my... So been trying to order these since Christmas and I see why they were sold out. I got these for my man, I must say I love the blue lol the fit of them and the view it gives me as well... Welp microphone check 💙💙💙 insider"
Seems like she's pretttttty happy.
Worst customer review
"We've bought many pairs of psd boxer briefs for many of our kids as well as ourselves. Always extremely happy, with the exception of youth bear-true timber. The bottom of the legs of the underwear were extremely tight, to the point of being very uncomfortable. Unfortunately I had already threw away the info to return so basically that money just went into the trash. Hopefully we won't have this happen with any future pairs."
Look. Mistakes happen. If your worst review comes from a sizing mix-up, you're doing something right.
PROS:
Incredibly soft, you won't stop touching it.
This underwear is a combination of model and polyester.
CONS:
Sizing is an issue; buy when you are sure about the size.
Duluth Trading Underwear
"Dang Soft™ underwear" - stamped with a ™, you know it's serious business.
What kind of person wears Dang Soft underwear? A person who means business. A person who is unafraid of comfort. A person who knows that when you feel good, you perform better.

Dang, Soft underwear is for people who want to get the job done right. People who are looking for an edge
Duluth Trading doesn't lie about their underwear being dang soft. They are made from Micro Modal after all. Who would've thought 😂
Eco-Cheeks? Buck Naked Performance? Free Range Cotton? Whatever you're into, we won't judge.
Best customer review
"I finally outlived my original DTC boxer brief underpants and have managed to build a stable of DTC Buck Naked boxers. I thought the all-cotton briefs were the best underwear I had ever worn---but I was wrong. The BNBBs are by far the most comfortable underwear a body could ask for. I buy them a size down from chart recommendations cause I like a tight package---but packaging that wicks away sweat and really breathes. No more damp cotton stuck on my nether regions aiding and abetting chaff and monkey butt. No more stink either. Doesn't mean I don't sweat anymore---it just means I don't pay the uncomfortable price for having done so. The cotton addiction is broken and I'm a free man like never before---except when buck naked that is."
Worst customer review
"Something is wrong here. Maybe I'm really a 31" waist and fall into the no man's land between small (30") and medium (32"). Or maybe the cut of the Buck Naked boxers is just this bad. They fit too tight for boxer shorts, but too loose for boxer briefs underwear - I don't even know what I'm wearing here. At least boxer briefs make a guy look enticing to the ladies. These are just boxy. Do you know how beavers - I'm talking about aquatic rodents here - have webbed feet? Duluth's Buck Naked boxers make you look like you have a webbed crotch. Now I'm sure there are some chicks out there who really get off on that look/birth defect, but I'd rather try my luck with a beaver than one of those freaks - and I still mean the aquatic kind."
Webbed Crotch. Dead. 😂
PROS:
It is micro modal underwear.
It prevents moisture and foul odor.
CONS:
Gives a tight hug to the nether region.
MeUndies
A large selection of whimsical prints on underwear made from Micro Modal. The perfect combo.
While not the highest quality Micro Modal (be careful to follow washing instructions if you want your underwear to last) it's incredibly soft to the touch.
MeUndies also offers a subscription to keep your underwear drawer fresh without breaking the budget.
Best customer review
"Gloriously soft. Look. We men don't get nearly enough sexy underwear targeted to us. Soft, supple, well made, and ranging from bold colours to pretty patterns, it is nice that Me Undies indulges us."
Worst customer review
"I chose the wrong style...I bought the boxer briefs and was disappointed that they didn't have a fly...after a few days, I went back on the site and saw there was an option of boxer briefs with a fly. Oh well"
Oh well. Better luck next time, muchacho.
PROS:
A large selection of prints and styles
Made from Micro Modal fabric, which is soft to the touch
It offers a subscription service to keep your underwear drawer fresh
CONS:
These boxer briefs do not have a fly.
Muchachomalo
"Bad Boy" - Inspired by the Spanish 'estilo de vida, carpe diem y corazon': Seize the day with all your heart, and make anything you want, possible!
Muchachomalo offers prints with an edge. Made from high quality cotton, but secretly wishing they were made from Micro Modal 👀 they are a worthy contender of our top 10 most comfortable men's underwear brands list.
This is the motto of the 'Bad Boy.' He is always up for anything, does not shy away from a little mischief, and knows how to have a good time – no matter what!

The 'Bad Boy' is never boring and always has something exciting up his sleeve. He is spontaneous, daring, and always up for a good time.

For a good time, you need good underwear. That is why the 'Bad Boy' only wears Muchachomalo. The ultimate in comfort, style, and sexiness.
Best customer review
"The underwear is great, that is why I ordered it, but to send it in a can makes it not fit through the sleeve of the mailbox thus a fair chance this winds up at one of my neighbors.....
I suppose this can also isn't for free, and you can't wear it.
The idea of sending this in a can, I have to admit is funny, but far from practical.
Quality of the underwear is top-notch !"
Can you believe it?
Worst customer review
"They were friendly on the phone but they send me the wrong underwear and a letter with this item that they did not have the item I picked in this was similar to the one I picked"
It is what it is.
PROS:
The prints are very macho and interesting
This underwear is of supreme quality
CONS:
You need to keep on visiting the e-store to find the size.
Bjorn Borg
Muchachomalo's more refined cousin. The so-called "pretty boy".

You don't always have to live life on the edge. Sometimes classic and refined is the recipe for the evening.
The fabrics used for this line have been carefully selected to meet the highest quality standards. So you can feel confident that you're looking good and wearing the best.

A solid selection of underwear prints, unfortunately, no Micro Modal.
Best customer review
"Bought the polyamide boxers, never buying any other kind of boxers underwear again! They're amazing, what every man deserves. Pamper yourselves lads!"
What is even Polyamide?
Worst customer review
"I placed an order on 04/04 which was created by DHL on 06/04 & received by them on 13/04. Now I know that they state on their website that orders will take longer, however my order has been "on hold" in customs since then according to DHL. I have had communication from Bjorn Borg saying be patient!! A week ago I had an email stating that they had contacted DHL to see what's happening & I would be contacted when they had received an answer, but no update yet. I have stated that I will not buy underwear again from Bjorn Borg, to which their answer was to give me a £15.00 voucher... I was also told that my shipment had arrived in the uk on 11/05!"
Shipping times took a hit during the pandemic. Can't really blame anyone here.
PROS:
Boxers are made of Polyamide, a strong and durable synthetic fabric
Many prints and designs to choose from
CONS:
Shipping of this underwear may take extra time
Tommy John
Speaking of refined, our old pal Tommy John easily wins in this category with some of the blandest prints on this list. We kid, we kid 😂. While a small selection of prints, their Non-Pilling Micro Modal is some of the softest we've ever touched. And we've touched a lot 😏.
But seriously, their fabrics are extremely high quality which is why we keep coming back for more (and more, and more). We also love that they have a "no-fly" zone. You know, for when you want to keep everything in its rightful place.
Best customer review
"Tommy Johns makes the most comfortable men's underwear you can buy, imo. They are super soft and thin. Unfortunately, they are not as durable as some other premium undies. I have a pair that is just outside the one year warranty, which brings me to another positive of TJ. I've returned a couple of orders. The most recent one because a pair developed a hole just a couple of weeks after the warranty expired. Just the same, they were nice and accepted the return. They also took an entire order back when I accidentally ordered the wrong size. They are always friendly to work with and if their underwear were less expensive, I would definitely order more."
Underwear with a 1-year warranty? Tommy, you're too kind.
Worst customer review
"I have purchased several items from Tommy John and have found everything to be comfortable and accurately sized. However, the hems on the women's underwear start to fray after two or three washes (even on the gentle cycle and inside a delicates bag). This is not like one small snag in the hem, but rather the entire portion pulling apart and creating a giant nest of thread which renders the underwear trash."
Good thing we're not reviewing women's underwear 👀
PROS:
The fit is accurate.
The fabric is breathable, soft, and smooth and does not irritate at any point.
CONS:
The hems start to wear out if not washed properly
Culprit Underwear
"Ready for Action" - With names like Battleflies 🦋, Monkey Business and Get it Kraken you know you're in for a good time.
Guess what these underwear are made of?
Modal, baby!
Soft to the touch, exquisite on the crotch.
Are you ready for action?
Best customer review
"These underwear's are actually better than I expected, I thought they were going to be a more firm kind of Nike pro material but they're thinner (not see-through) and very comfortable, they're form-fitting and flattering and they honestly make me feel like a bad b with a fat ass. I'll be buying more in the future"
Let's raise a toast to all the bad b*****s with a fat ass.
Worst customer review
"A couple of weeks ago I ordered this 3 pack underwear and was very happy with the quality. The only problem was that instead of Jurassic Western I received Raptor Vice, I wrote to find out why this happened but I did not receive a response. Still happy with the product just wish I got some feedback."
Didn't raptors exist in the Jurassic era? What is the problem here exactly?
PROS:
Made of modal material, soft to the touch and exquisite on the crotch.
Form-fitting and flattering.
CONS:
Slow response from the support
Pair of Thieves
Made from Polyamide (ok, can somebody tell me wtf is Polyamide?) and NOT Micro Modal.
More like a Pair of Liars, if you know what I mean?
All jokes aside though, they offer some pretty nice prints. With a name like "Pair of Thieves," you'll be ready to steal the night away 🌚
What's the verdict? They are a solid choice! CATCH THEM ON SALE.
But don't say we didn't warn you about the Polyamide. Steal the night with your new Pair of Thieves—just don't get caught. 😉
Best customer review
"You were not kidding - BEST pair of underwear that I have worn in years!!!!!!!!!!!!!!!!!!! ordered 2 pairs 2 weeks ago, and just ordered another 2 pairs."
Sounds like you're 3 pairs short for the week ;)
Worst customer review
"Order a size up"
OK. We will!
PROS:
You can get some cool prints.
CONS:
Best men's underwear wrap up
Some will say, where is Calvin Klein? Where is Mack Weldon? What about Ralph Lauren?
As much as we would have loved to include the classic Calvin Klein boxers or the original Ralph Lauren briefs, these brands aren't really known for their wild prints, but rather for their classic cuts and solid colors.
So this brings us to the end of our top 10 best men's underwear list.
We hope you enjoyed the read but aren't really sure what you're still doing here.
Go on.
Grab yourself a pair or ten of the best underwear known to men.
Your balls will thank you.
What makes the underwear most comfortable?
Ahh! *Dreaming about comfortable underwear*
Slipping into a pair of soft, comfy undies after a long day, now that is a GOAL. It's like giving your nether regions a big ol' hug! But with so many different types and underwear styles, how do you know which ones are right for you? 
When you're on the hunt for the perfect pair of comfortable underwear, consider a few things.
 1: Fabric is key.
You want something that's going to be soft and gentle on your skin, like cotton, bamboo or the best of all micro modal. Avoid scratchy materials like polyester or nylon.
 2: Fit is everything.
Make sure you get undies that are the right size for you. Nothing is more uncomfortable than a pair of too-tight briefs digging into your skin. Also, you don't want to seem comfortable on your date night.
3: Breathability is important.
Sweaty, stinky situation; IT IS a NIGHTMARE. Look for underwear designed to wick away moisture and keep you feeling fresh all day long. Nobody likes to ruin the first impression; "You know what we mean."
4: Comfort comes first.
Don't sacrifice style for comfort - plenty of attractive, comfortable underwear options are available. It's just a matter of finding the right pair for you.
Little things like a seamless design or a no-ride-up waistband can make a big difference in how comfortable your underwear feels.
Now you know about a comfortable pair of underwear, go forth and find your perfect match! Your nether regions will thank you. ;-)
Our top Picks:
Bunch of Animals Boxer Briefs:
These boxer briefs are perfect for guys who are boxer enthusiasts or just appreciate a good pair of boxer briefs with some personality. Super soft and comfortable!
Wear your boxer brief without worrying about discomfort. No more chaffing or discomfort with this breathable underwear. The European MicroModal fabric is too gentle on your skin. At the same time, having the best time of your life, no need to stress over bad odor because the material of our boxer briefs is odor-resistant! Thanks to the snug fit and no-ride-up design, you will not have to think about your boxers riding up. So go ahead and add a little fun to your underwear drawer with these Bunch of Animals boxer briefs. 
PSD Underwear
Do you know the best thing about PSD Underwear that makes it our top pick? 
They're affordable yet offer luxury boxer briefs made from modal fabric – known to be breathable and softer to the touch. Plus, their prints and designs are always on point, making them a great choice for fashion-savvy men.
Muchachomalo
Be a bad boy, do what you want, and follow your heart. Carpe diem!
With Muchachomalo underwear, you can make anything possible. This underwear is our top pick as it is made of high-quality cotton. Muchachomalo is underwear with a difference. We believe in following your heart and living life to the fullest. It is our favorite as we want you to have fun, be bold and express yourself.
FAQS:
 What is the most comfortable underwear for everyday wear?
There is no definitive answer to this question, as everyone has different preferences. Some people prefer loose-fitting boxer briefs, while others find that snug-fitting hipsters are more comfortable.
 What is the best material for comfortable underwear?
Again, this depends on personal preference. Some people find that natural fabrics like cotton are more comfortable against their skin, while others prefer materials like MircoModel, three times more soft and comfortable than cotton.
 How should I care for my comfortable underwear? 
To keep your underwear looking and feeling its best, it is important to follow the care instructions on the label. Most comfortable underwear can be machine-washed in warm water and tumble-dried on low heat.
 What are some common problems with comfortable underwear?
The most common problem with comfortable underwear is that it can ride up or become uncomfortable during wear. To avoid this, try on a few different styles and sizes before settling on one.
MORE FROM THE FUZZY COCONUT